Devils Thumb sits just across the water from Petersburg, a monolith of ice and granite. Until recently the mountain had never been climbed by someone born and raised in Petersburg. Kyle Knight reached the summit after a lifetime of watching the mountain, dreaming of the climb.
Devils Thumb rises to 9,000 feet above sea level, part of the Boundary Mountains of the Stikine Icefield. Mountaineer Dieter Klose has spent more time exploring the Thumb than anyone else. He came to Petersburg to climb it in 1980, and eventually made Petersburg his home.
"Like my son said, Petersburg wouldn't be the same without Devils Thumb," said Klose. "I think for everybody, we kind of relate, we see this beautiful thing. It's inspiring. It's daunting, it's aberrant. And it just instills this wonder in climbers and non."
In cloudy, misty Southeast Alaska, the peak isn't visible most of the time. So it's a shorthand – when people say "you can see the Thumb" that means good weather, blue skies.
The mountain's remote location and extreme conditions make it notorious among rock and ice climbers. It's been summited fewer than 50 times since Fred Beckey first climbed it in 1946. The "classic" Eastern Ridge is sometimes referred to as the "easy route." But that's only in comparison to the icy Northwest Face, which remains unclimbed. Three people have died in the attempt.
To locals, the Thumb is as much a part of Petersburg as the rain and the smell of fish in summertime. That's part of the reason 35-year-old Kyle Knight wanted to climb the mountain.
"It's been part of the landscape since before I can remember," he said. "And I think that's what makes it so special or significant to me is that that's a peak that's been dominating the skyline from a very young age. And you know, it's totally striking. I know that everybody has some sort of relationship with that skyline."
His interest started in middle school when he found an old climbing magazine from the '70s in his parent's library. It had an account of Bob Plumb and Dave Stutzman's first ascent of the Northeast rib of the North Face of Devils Thumb in 1977.
"I was just totally enamored with that story of their adventure in the landscape," said Knight.
But when Knight was young, and even after he started climbing in his teens, summiting Devils Thumb seemed more like a dream than a realistic goal.
"I felt like that was sort of the realm of the world-class alpinist, and a different challenge at a risk level that I wasn't going to be able to develop the skills to be comfortable with," he said.
But the skills came. Knight became friends with people who had climbed Devils Thumb. After high school he moved to the Lower 48 and climbed constantly. The dream became a stated goal.
It would take another 15 years to achieve the goal. That's partly because the best time to climb the mountain is May through August, when there's less chance of avalanches and rockfall. Knight is a fisherman and spends summers in Bristol Bay. But this year a close friend with lots of experience on the mountain was visiting Petersburg. They decided they would attempt the climb in August after Knight returned from fishing.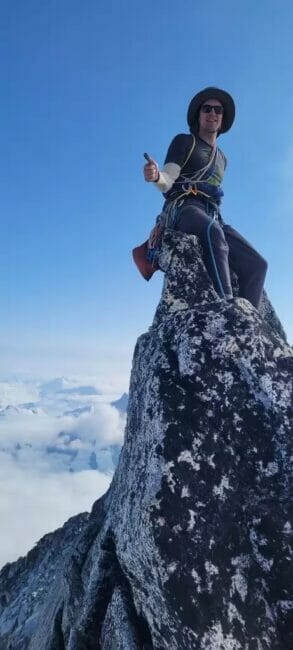 Even in summer, storms can make an ascent of Devils Thumb impossible. The pair lucked out, with a tight window of good weather within days of Knight's return. They took a helicopter to base camp where they spent the night. At about 7 a.m. they roped up and began their climb of the Direct East Ridge.
Knight said he often tried to block out the view on the way up.
"It's scary," he laughed. "So by focusing more just on the moves themselves, you can avoid being negatively affected by that fear."
They reached the top around dinnertime.
"I totally felt satisfaction," Knight said. "But also I know that getting to the top is only halfway, because you gotta get back down and you never want to feel so satisfied that you lose that sense of focus."
Knight said the summit is a boulder about the size of a van.
"The actual top of it is just big enough for one person to sit astride with 6,000 feet of exposure down on either side below your feet," he said.
They spent about two minutes taking in the view and snapping photos.
"And then my partner went up and slapped it and said, 'OK, let's get the heck down," he said.
It was 2 a.m. before they were back at base camp.
Knight said their slow speed could have been due to his training, or lack thereof. He said he had a very specific training regime in the months leading up to the climb: "Bristol Bay – sockeye salmon fishing. Lots and lots of crawling in and out of the engine room."
But it took longer than expected for another reason.
There's a lot of newly exposed rock at the very beginning of the climb where in the past there had been snowfields. That rock hasn't had time to settle, which means it's loose, and dangerous. Knight said the descent in the dark was a risk that he was comfortable taking once.
"Yeah, I did it once. I don't really want to do it again," he said. "Which like for a fisherman, you might think about, you know, that big storm that you ran through, that you didn't really want to, but you got stuck in. It happens, but you don't try to make a habit of it."
Knight said that he's always thinking about the conditions of the route when he's climbing. He's constantly calculating risk. But that risk doesn't take away from his enjoyment.
"In a way that's part of the appeal," he said.
But trying the Thumb again? Knight said he gives it "a solid maybe."
That's because, he said, "a big part of wanting to do it is looking at it for all these years, now I can look up there and know that I have been up there."
Veteran climber Dieter Klose is thrilled that Knight summited the mountain.
"He's the first person that grew up in Petersburg and climbed Devils Thumb. Born and raised," he said. "And I lived here so many years, I was the only climber. I had to go climbing alone, unless I brought somebody up. And so for Kyle to do it…in my mind, that's the beginning of a legend in Petersburg."
One thing is for sure. It's not the last mountain Knight will climb. He plans to keep fishing every summer, and climbing the rest of the year.