Standing at the edge of what used to be a huge, tree-lined backyard along the Mendenhall River, Aiden Key poked at a thick layer of glacial silt with the toe of his boot.
"A few more of these and you're looking at beach front property," he said. "Nice, sandy beaches."
Key said he used to sit on a deck chair and watch bears and porcupines come through his yard. But now those chairs are gone, along with most of the land where that wildlife used to roam. It was all swept away earlier this month in Juneau's record glacial outburst flood.
The land that remains is battered. Tree roots stick out from the steep drop off at the edge of the bank. The plants in the garden are wilted, and black landscaping tarp sticks out in patches across the lawn.
Key said he's been wary of the river ever since he bought the house in 2020.
"I remember just staring at the river and thinking, wow, that is a force," he said.
Now, pieces of other houses are propped up against his back porch. They washed up there during the flood. From his yard, Key can see a neighbor's house hanging off the bank, with one side that's collapsed.
There's no way to fully plan for a disaster like this month's record glacial outburst flood. But Key — like many others along the river — thought insurance would provide a safety net. He thought wrong.
When he bought the house, he said, his insurance agent told him flooding wasn't something to worry about. He wasn't in a designated flood zone. But Key bought a flood policy anyway, along with the required homeowner's policy.
Now, neither policy will cover the damage from the flood. And he's worried that the eroded bank has made his house even more vulnerable — and protecting it will likely cost tens of thousands of dollars.
Homeowners insurance excludes Alaska's most common disasters
The lack of coverage was a surprise to many homeowners like Key. But it's not a surprise to local insurance agent Emil Mackey. That's because insurance is designed to protect property — and in insurance terms, that doesn't necessarily mean what people expect.
"Property is typically a structure or private goods that are on the property, not the land itself," he said. "That's where insurance typically stops."
If Key's house had been flooded, he might have gotten some money. Since it wasn't, he'll get nothing.
Key took the extra precaution of getting flood insurance, but many of his neighbors along the riverbank didn't. And with a standard homeowners policy, there's no payout for a disaster like this — no matter how the damage happened.
Mackey said that even though homeowners need insurance to get a mortgage, a standard policy won't cover some of Alaska's most common disasters — things like earthquakes, avalanches, landslides, floods and all kinds of erosion.
"Because homeowner's insurance excludes a lot of different things," Mackey said. "Flood and earth movement are the two big ones that we really need to worry about."
Those events can cause catastrophic losses, and insurance companies generally want to spread the cost of those losses among many policyholders. Mackey said it's harder to do that in Alaska.
"The private market just cannot respond to these risks," he said. "We're too small of a state with not enough population to respond to it."
Riverside homes lacked flood insurance
The average Alaska homeowner may not know about all those exclusions. Kris Dorsey's condo on Riverside Drive was condemned after the flood destroyed its foundation.
She thought that some of the damage might be covered by her homeowner's insurance policy.
"In the moment when you're in the office, signing all the papers, and you're reading page after page of policy," Dorsey said. "I think it's hard to even imagine what's not in the policy sometimes. Until you have something like this happen."
In the days after the flood, Dorsey said she spent hours sending emails and making phone calls to her insurance agent. Her adjuster, in Texas, had never even heard of a glacial outburst flood. Eventually, her claim was denied.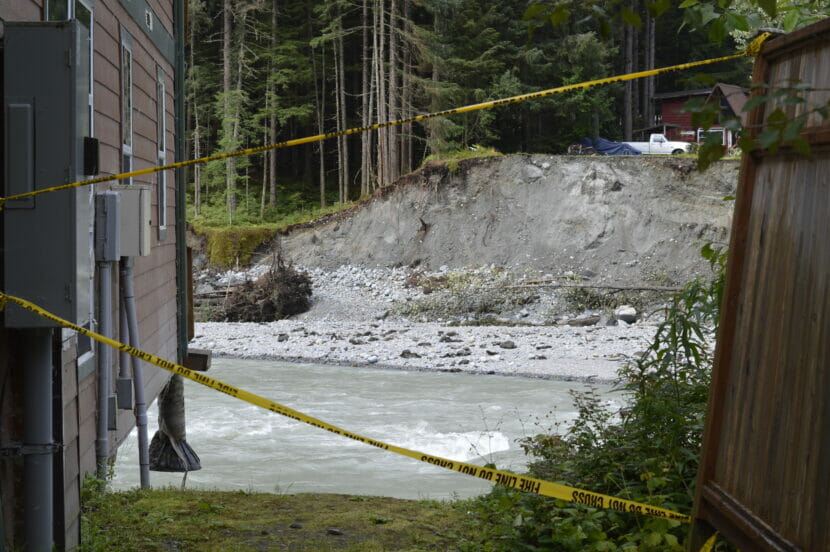 It caught her off guard.
"I feel like insurance has a responsibility to disclose these things more," she said. "To make sure customers are aware of exclusions."
The denial was especially stressful for Dorsey because she won't get any money for additional living expenses. Dorsey and her family had just 10 minutes to pack up and evacuate from their home, leaving many of their belongings behind. They're not sure when they'll be able to return.
Her home insurance policy could offer payments for living expenses — but only for a covered loss. In other words, not for a flood.
Dorsey didn't have flood insurance for her condo unit. The building didn't have it either. Most people purchase flood insurance based on historic flood maps, and the Mendenhall River had never flooded like this before.
But even if they had, it still may not have helped. Just like in Key's backyard, the most severe damage to homes from the flood was caused by eroding river banks, not standing water. Which means it still might not be covered.
That's because flood insurance makes exclusions for damage caused by earth movement — things like earthquakes, landslides and erosion.
Dorsey said she's not sure if she'll purchase a flood insurance policy going forward. A couple of days after the flood, a different insurance company reached out to try to sell her flood insurance.
"And I almost felt like they were trying to trick me into buying something that wouldn't have worked," she said.
You may still want flood insurance
Still, Mackey said he does recommend flood insurance to everyone in Juneau, even outside of historic flood zones. It covers a lot of the gaps left by a regular homeowners policy. For many homes that only have water damage, it should cover the costs of repair.
While it's much harder to convince insurers to cover damage from erosion, Mackey said, people with flood insurance might get some money by taking their insurance company to court. He said that if erosion happens concurrently with a flood, it may still be covered.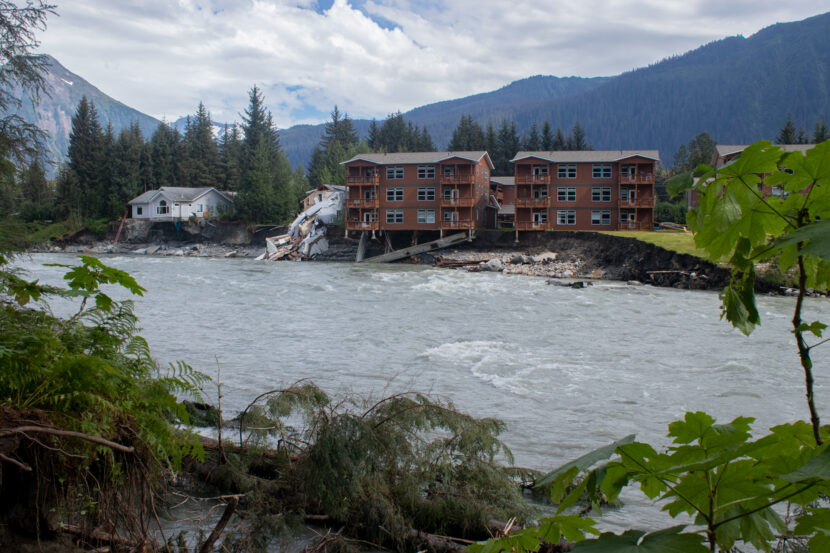 But that won't be an option for people like Dorsey, who only had a standard homeowners insurance policy. She said she's overwhelmed by the costs she's facing for repairs.
"There's no way to plan financially for this," she said.
This fall marks Dorsey's first season of retirement after nearly 30 years as a teacher. Her husband, who is also a teacher, had hoped to retire, too, at the end of this school year.
Instead, Dorsey said they might need to pick up extra jobs.