On Tuesday, June 7 at 2pm and 7pm
FREE-RANGE vs. OVER PARENTING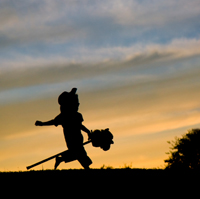 What's your parenting style – laid-back or helicopter? Do you let the kids run free or do you hover? Where do you draw the lines between cautious and fearful; encouraging and pressuring; and healthy exposure and over-protection? Research shows that kids these days are safer and healthier than in other time in history – so why all the worry?
Tell us: Where do you fall on this parenting-styles spectrum?
Host Shana Sheehy will be discussing these questions next time on Kids These Days! with two special guests – both possessing an abundance of insight and lots of humor concerning this topic. Lenore Skenazy (aka the "World's Worst Mom"), author of Free-Range Kids: How to Raise Safe, Self-Reliant Children Without Going Nuts With Worry will be joining us from New York. And right here from Alaska we've got Michelle Mitton in the studio – you may already be a fan of her hugely popular mommy-blog Scribbit.
Also this hour we bring you a look at urban vs. rural Alaska parenting styles, talk bear awareness, adults remember how much freedom they had as kids in a new installment of When I Was Young, and meet our latest mentor hero, Junior Gisa of AK PRIDE  in a brand new Power of One.
Be sure to tune in next week for this all new, 100%  stranger danger-free episode of Kids These Days!
After you hear the program please visit KidsTheseDays.org where the conversation continues 24/7! You can also search the archives, hear featured stories in excerpt, read our excellent original blogs, view photos and browse local family activities and fun lists.
The best way to keep up with Kids These Days! show topics and web exclusives to to follow us on FACEBOOK and TWITTER, so please join us!